Picture this, one day you are sitting in front of your laptop googling, for example, "how do I travel on a budget?" You find a few useful sites and spend the next half an hour reading, after that you figured out you needed a break. So you decide to check for new notifications from Facebook. You reload your Facebook homepage and guess what, on the corner of your feeds, you see all these banners reading something like "EXPEDIA travel deals", "Book your next trip with Priceline," "TripAdvisor: Ten tips to save big while travelling" etc…
At this point, are you baffled/surprised/creeped out or maybe slightly ticked-off? Do you feel like you have been a target of advertisers' data collection schemes? Well, you are not alone. A total of 27 percent of Facebook users, 23 percent of LinkedIn users, and 12 percent of Twitter users said ads interfere with their experience on the sites, as reported by American Customer Satisfaction Index (ACSI). What's worse, 33% of social media users are saying that they find ads on social networks to be more annoying than regular online ads. Advertisers are now caught in a dilemma because social networks are where their target market are and where they are most easily accessible.
That being said, advertisers should be aware of where and what kind of advertising makes users of social media annoyed. For example, in this article, Users balk at 'intrusive' Facebook video ads.  , consumers are unhappy with Facebook's introduction of new video ads appearing on their news feed. Only 17% of people surveyed reported that the ads will "entice" them while the rest have negative criticisms about this change.
One issue that irritates consumers are environmental incongruity, as pointed out by this article.
 "On Twitter, social ad incongruity can also be a result of a marketers placing content somewhere it does not make sense. Marketers out there that have tried to insert their brand into conversations (via hashtags) where their brand has nothing to do with that conversation or the target audience. That is to say that a male focused sports marketing retailer should focus on sports related conversations over "political commentary" or "expecting mother" type conversations. It can make people in the Twitter conversation think that the brand is just hijacking the conversation and may start to build resentment toward the brand."
Blindly tossing the name of your brand out in social media can feel like you are just trying to raise awareness and push sales forcefully.
Besides, advertisers should be able to choose when and how to advertise their brand and include themselves in hot topics, like national/global news.
Here is an unfortunate coincidence where an Apple ad was placed right above the news article that revealed the news of the missing plane ending up in the ocean. This may come off as insensitivity and oblivion on the part of the company to the social media world.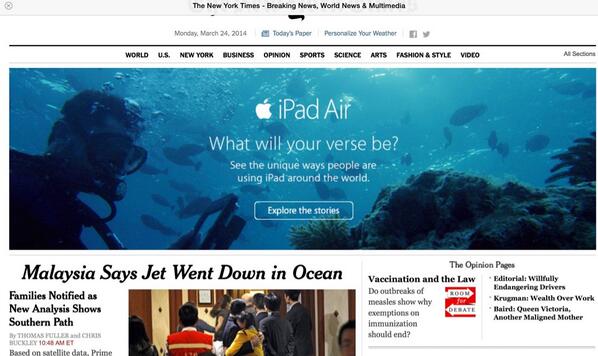 Social media advertisers are often looking to raise brand awareness as they advertise on various social media platforms and the worst thing that could happen is for the ads to create a negative impression on the users.
Thus, being aware of the various attitudes of social media users and strategically managing and distributing ads can also bring huge success to a brand. For example, OREO took advantage of the Superbowl blackout and tweeted this:
Being able to optimize that opportunity has caused the OREO brand to be among one of those "most talked about" brands during and after the Superbowl. Hence, even without spending $4 million to run an ad spot during the Superbowl, the brand received valuable attention and awareness from the public, just by putting out information at the right time and on the right platform.